5/8" (10B) Cast Iron Simplex Taper Bush Sprockets
High quality 5/8" 10B taper bore cast iron British Standard pitch sprockets in the most popular sizes. If the size you require is not listed, please contact us and we will check for availability.
Cast G20
These gears are supplied with a taper bore for bush type fixings.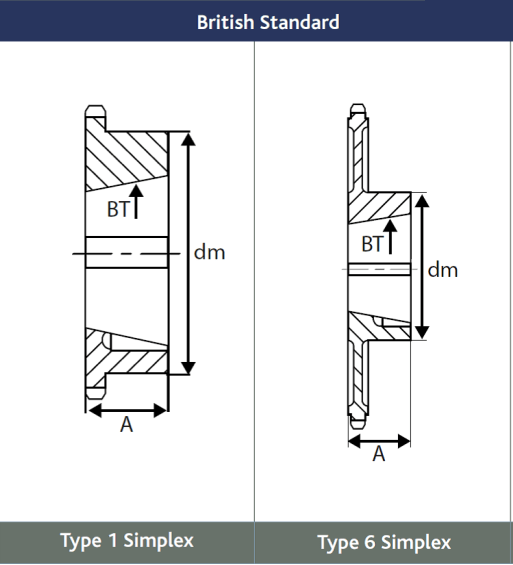 All dimensions subject to change, if a dimension is critical to your application, please contact us for confirmation.
Part No.
Code
No. teeth
Bush
Type
Hub
Overall
type BT
dia. dm
width A
7824-419
CS51-38C
38
2012
1
102
32
7824-422
CS51-57C
57
2012
6
111
32
7824-424
CS51-76C
76
2012
6
111
32
7824-425
CS51-95C
95
2517
6
124
45
7824-426
CS51-114C
114
2517
6
124
45