1/2" x 5/16" (08B) Simplex Steel Taper Bush Sprockets
High quality 1/2" 08B taper bore British Standard pitch sprockets in the most popular sizes. If the size you require is not listed, please contact us and we will check for availability.
Steel C45
These gears are supplied with a taper bore for bush type fixings.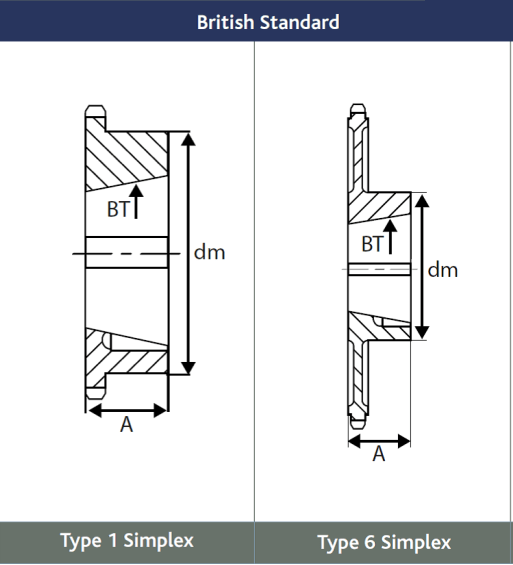 All dimensions subject to change, if a dimension is critical to your application, please contact us for confirmation.
Part No.
Code
No. teeth
Bush
Type
Hub
Overall
type BT
dia. dm
width A
7823-724
CS41-15
15
1008
1
46
22
7823-725
CS41-16
16
1108
1
50
22
7823-726
CS41-17
17
1210
1
59.5
25
7823-727
CS41-18
18
1210
1
60
25
7823-728
CS41-19
19
1210
1
63
25
7823-729
CS41-20
20
1610
1
71
25
7823-730
CS41-21
21
1610
1
71
25
7823-731
CS41-22
22
1610
1
70
25
7823-732
CS41-23
23
1610
1
76
25
7823-733
CS41-24
24
1610
1
70
25
7823-734
CS41-25
25
1610
1
76
25
7823-735
CS41-26
26
1610
1
70
25
7823-736
CS41-27
27
1610
1
76
25
7823-737
CS41-28
28
2012
1
90
32
7823-738
CS41-30
30
2012
1
90
32
7823-739
CS41-38
38
2012
1
102
32
7823-740
CS41-45
45
2012
1
102
32
7823-741
CS41-57
57
2012
1
111
32
7823-743
CS41-76
76
2012
6
111
32