1/2" x 5/16" (08B) Stainless Steel Simplex Sprockets
Stainless steel 1/2" 08B British Standard pitch sprockets in the most popular sizes. If the size you require is not listed, please contact us and we will check for availability.
This range of sprockets are manufactured from Stainless Steel type 304L for maximum corrosion resistance. They are suitable for corrosive environments, including high temperature and moist conditions found in many food process and packaging operations. These sprockets are suitable with either Stainless Steel or plated chains.
Bore size is subject to change from table below.
These gears are supplied with a pilot bore without provision for shaft fixing. The bore can be machined out to a larger accurate diameter (subject to boss size) although many users find the pilot bore quite acceptable. Custom machining of stainless steel gears is not available from Gears and Sprockets.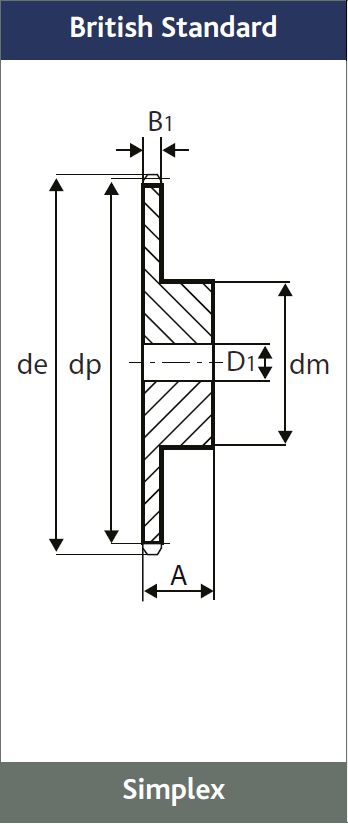 Tooth width: B1 = 7.2
All dimensions subject to change, if a dimension is critical to your application, please contact us for confirmation.
Pitch
No. Teeth
12
13
15
16
17
18
19
20
21
23
25
30
1/2″ x 5/16″(08B-1)
Part No.
Unavailable
7823-617
7823-622
7823-625
7823-628
7823-631
7823-634
7823-637
7823-640
7823-645
7823-650
7823-661
Code
CS4SR12SS
CS4SR13SS
CS4SR15SS
CS4SR16SS
CS4SR17SS
CS4SR18SS
CS4SR19SS
CS4SR20SS
CS4SR21SS
CS4SR23SS
CS4SR25SS
CS4SR30SS
de
53
57.9
65.9
69.9
74
78
82
86
90.01
98.01
106.2
126.3
dp
49.07
53.06
61.09
65.1
69.11
73.14
77.16
81.19
85.22
93.27
101.33
121.5
dm
33
37
45
50
52
56
60
64
68
70
70
80
D1*
10
10
10
12
12
12
12
12
14
14
14
16
A
28
28
28
28
28
28
28
28
28
28
28
30
* Bore Ø H12