Metric MOD 0.7 Steel Spur Gears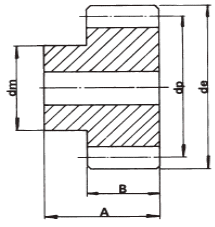 Standard : to DIN 867, DIN 3962, DIN 3963, Grade 9gs
Standard tolerances, unless otherwise stated ±0.25mm.
Steel EN8, 080M40/080M46
Bore size is subject to change from table below, if bore size is critical then select 'Custom Bore Size' with bore required when making purchase.
These gears are supplied with a pilot bore that can be machine to a larger accurate diameter (subject to boss size) although many users find the pilot bore quite acceptable. Using our 'Custom Machining' service, we can not only bore out these gears but also drill and tap for set (grub) screw fixing. See the 'Custom Machining' tab with each product for more information.