Metric MOD 4 Stainless Steel Spur Gears
Standard : to DIN 867, DIN 3962, DIN 3963, Grade/Quality 9 or Equivalent
Standard tolerances, unless otherwise stated ±0.25mm.
All dimensions in mm
Stainless Steel AISI 303/304
Bore size is subject to change from table below.
These gears are supplied with a pilot bore that can be machined out to a larger accurate diameter (subject to boss size) although many users find the pilot bore quite acceptable. Custom machining of stainless steel gears is not available from Gears and Sprockets.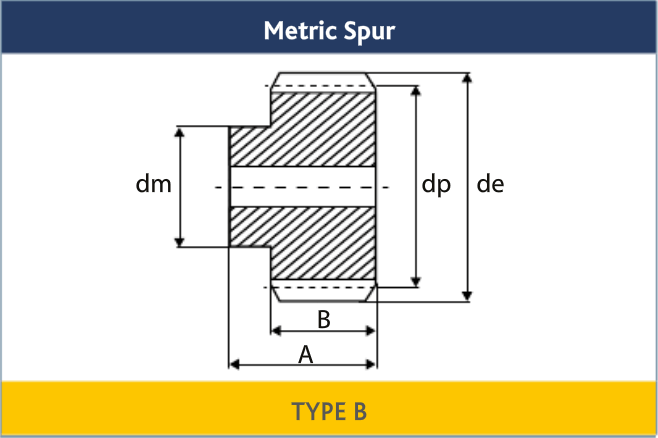 All dimensions subject to change, if a dimension is critical to your application, please contact us for confirmation.
| | | | | | | | | | |
| --- | --- | --- | --- | --- | --- | --- | --- | --- | --- |
| Part No. | Code | Type | No. of Teeth | Pitch Ø dp | Bore Ø H8 | Hub/Boss Ø dm | Outside Ø de | O/A Width A | Face Width B |
| 7701-963 | STS40/28B* | B | 28 | 112 | 30 | 80 | 120 | 60 | 40 |
| 7701-964 | STS40/40B* | B | 40 | 160 | 30 | 80 | 168 | 60 | 40 |
| 7701-965 | STS40/44B* | B | 44 | 176 | 30 | 80 | 184 | 60 | 40 |
*Come with 8 mm wide keyway and grub screw holes