Metric Bronze Wormwheels
Bronze wormwheels, worm not included with wormwheel but available here.
20° pressure angle

Bore tolerance H7

Single(1R) & Double(2R) Start

Right Hand

All dimensions in mm.

Standard tolerances, unless otherwise stated ±0.25 mm

.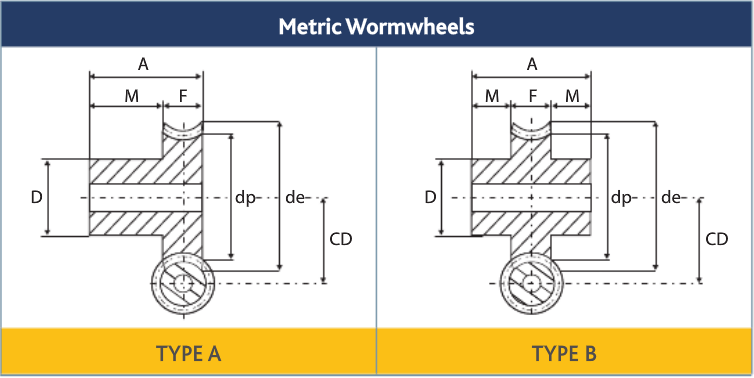 All dimensions subject to change, if a dimension is critical to your application, please contact us for confirmation.
| | | | | | | | | | | | | |
| --- | --- | --- | --- | --- | --- | --- | --- | --- | --- | --- | --- | --- |
| Part No. | Code | Pitch Module | No. Teeth | dp | de | Boss Ø D | M | Bore | F | A | Centre Distance | Type |
| 7705-102 | BWW05/20/1R | 0.5 | 20 | 10 | 11.4 | 8 | 5 | 3 | 3 | 8 | 8.5 | A |
| 7705-103 | BWW05/25/1R | 0.5 | 25 | 12.5 | 14 | 10 | 5 | 4 | 3 | 8 | 9.75 | A |
| 7705-104 | BWW05/30/1R | 0.5 | 30 | 15 | 16.5 | 10 | 5 | 4 | 3 | 8 | 11 | A |
| 7705-105 | BWW05/40/1R | 0.5 | 40 | 20 | 21.5 | 10 | 5 | 4 | 3 | 8 | 13.5 | A |
| 7705-106 | BWW05/50/1R | 0.5 | 50 | 25 | 26.5 | 10 | 5 | 4 | 3 | 8 | 16 | A |
| 7705-107 | BWW05/60/1R | 0.5 | 60 | 30 | 31.5 | 15 | 5 | 4 | 3 | 8 | 18.5 | A |
| 7705-108 | BWW05/75/1R | 0.5 | 75 | 37.5 | 39 | 15 | 5 | 4 | 3 | 8 | 22.25 | A |
| 7705-101 | BWW05/100/1R | 0.5 | 100 | 50 | 51.5 | 15 | 5 | 5 | 3 | 8 | 28.5 | A |
| 7705-110 | BWW075/16/1R | 0.75 | 16 | 12 | 13.8 | 10 | 6 | 4 | 3 | 9 | 10.25 | A |
| 7705-111 | BWW075/18/1R | 0.75 | 18 | 13.5 | 15.4 | 10 | 6 | 4 | 3 | 9 | 11 | A |
| 7705-112 | BWW075/20/1R | 0.75 | 20 | 15 | 16.9 | 10 | 6 | 4 | 3 | 9 | 11.75 | A |
| 7705-113 | BWW075/25/1R | 0.75 | 25 | 18.75 | 20.6 | 12 | 6 | 4 | 3 | 9 | 13.63 | A |
| 7705-114 | BWW075/30/1R | 0.75 | 30 | 22.5 | 24.4 | 12 | 6 | 4 | 3 | 9 | 15.5 | A |
| 7705-115 | BWW075/40/1R | 0.75 | 40 | 30 | 32 | 12 | 6 | 4 | 3 | 9 | 19.25 | A |
| 7705-116 | BWW075/50/1R | 0.75 | 50 | 37.5 | 39.5 | 12 | 6 | 4 | 3 | 9 | 23 | A |
| 7705-117 | BWW075/60/1R | 0.75 | 60 | 45 | 47 | 15 | 6 | 4 | 3 | 9 | 26.75 | A |
| 7705-118 | BWW075/75/1R | 0.75 | 75 | 56.25 | 58.25 | 15 | 6 | 4 | 3 | 9 | 32.38 | A |
| 7705-109 | BWW075/100/1R | 0.75 | 100 | 75 | 77 | 15 | 6 | 5 | 3 | 9 | 41.75 | A |
| 7705-119 | NBWW08/20/1R | 0.8 | 20 | 16.03 | 17.6 | 12 | 9 | 5 | 9 | 18 | 15 | A |
| 7705-120 | NBWW08/20/2R | 0.8 | 20 | 16.11 | 17.6 | 12 | 9 | 5 | 9 | 18 | 15 | A |
| 7705-121 | NBWW08/30/1R | 0.8 | 30 | 24.04 | 25.6 | 18 | 9 | 5 | 9 | 18 | 19 | A |
| 7705-122 | NBWW08/30/2R | 0.8 | 30 | 24.16 | 25.6 | 18 | 9 | 5 | 9 | 18 | 19 | A |
| 7705-123 | NBWW08/40/1R | 0.8 | 40 | 32.05 | 33.6 | 20 | 9 | 6 | 9 | 18 | 23 | A |
| 7705-124 | NBWW08/50/1R | 0.8 | 50 | 40.06 | 41.6 | 25 | 9 | 8 | 9 | 18 | 27 | A |
| 7705-134 | BWW10/16/1R | 1 | 16 | 16 | 18.7 | 12 | 8 | 5 | 7 | 15 | 15 | A |
| 7705-135 | BWW10/18/1R | 1 | 18 | 18 | 20.7 | 12 | 8 | 5 | 7 | 15 | 16 | A |
| 7705-136 | BWW10/20/1R | 1 | 20 | 20 | 22.7 | 16 | 8 | 5 | 7 | 15 | 17 | A |
| 7705-137 | BWW10/25/1R | 1 | 25 | 25 | 27.7 | 16 | 8 | 5 | 7 | 15 | 19.5 | A |
| 7705-138 | BWW10/30/1R | 1 | 30 | 30 | 32.7 | 16 | 10 | 6 | 7 | 17 | 22 | A |
| 7705-139 | BWW10/35/1R | 1 | 35 | 35 | 37.7 | 16 | 10 | 6 | 7 | 17 | 24.5 | A |
| 7705-140 | BWW10/40/1R | 1 | 40 | 40 | 42.7 | 20 | 10 | 6 | 7 | 17 | 27 | A |
| 7705-141 | BWW10/50/1R | 1 | 50 | 50 | 52.7 | 20 | 10 | 6 | 7 | 17 | 32 | A |
| 7705-142 | BWW10/60/1R | 1 | 60 | 60 | 62.7 | 30 | 10 | 6 | 7 | 17 | 37 | A |
| 7705-143 | BWW10/75/1R | 1 | 75 | 75 | 77.7 | 30 | 10 | 6 | 7 | 17 | 44.5 | A |
| 7705-131 | BWW10/100/1R | 1 | 100 | 10 | 102.7 | 30 | 12 | 6 | 7 | 19 | 57 | A |
| 7705-132 | BWW10/125/1R | 1 | 125 | 125 | 127.7 | 40 | 12 | 8 | 7 | 19 | 69.5 | A |
| 7705-133 | BWW10/150/1R | 1 | 150 | 150 | 152.7 | 40 | 12 | 8 | 7 | 19 | 82 | A |
| 7705-125 | NBWW10/20/1R | 1 | 20 | 20.05 | 23 | 16 | 10 | 6 | 10 | 20 | 18 | A |
| 7705-126 | NBWW10/20/2R | 1 | 20 | 20.16 | 23 | 16 | 10 | 6 | 10 | 20 | 18 | A |
| 7705-127 | NBWW10/30/1R | 1 | 30 | 30.07 | 33 | 20 | 10 | 6 | 10 | 20 | 23 | A |
| 7705-128 | NBWW10/30/2R | 1 | 30 | 30.24 | 33 | 20 | 10 | 6 | 10 | 20 | 23 | A |
| 7705-129 | NBWW10/40/1R | 1 | 40 | 40.09 | 43 | 26 | 10 | 8 | 10 | 20 | 28 | A |
| 7705-130 | NBWW10/50/1R | 1 | 50 | 50.12 | 53 | 30 | 10 | 8 | 10 | 20 | 33 | A |
| 7705-145 | BWW15/16/1R | 1.5 | 16 | 24 | 28.4 | 20 | 8 | 8 | 12 | 28 | 24.5 | B |
| 7705-146 | BWW15/18/1R | 1.5 | 18 | 27 | 31.4 | 20 | 8 | 8 | 12 | 28 | 26 | B |
| 7705-147 | BWW15/20/1R | 1.5 | 20 | 30 | 34.4 | 24 | 8 | 10 | 12 | 28 | 27.5 | B |
| 7705-148 | BWW15/25/1R | 1.5 | 25 | 37.5 | 41.9 | 30 | 8 | 10 | 12 | 28 | 31.25 | B |
| 7705-149 | BWW15/30/1R | 1.5 | 30 | 45 | 49.4 | 30 | 8 | 10 | 12 | 28 | 35 | B |
| 7705-150 | BWW15/40/1R | 1.5 | 40 | 60 | 63.4 | 30 | 10 | 10 | 12 | 32 | 42.5 | B |
| 7705-151 | BWW15/50/1R | 1.5 | 50 | 75 | 79.4 | 30 | 10 | 10 | 12 | 32 | 50 | B |
| 7705-152 | BWW15/60/1R | 1.5 | 60 | 90 | 94.4 | 40 | 10 | 12 | 12 | 32 | 57.5 | B |
| 7705-153 | BWW15/75/1R | 1.5 | 75 | 112.5 | 116.9 | 40 | 10 | 12 | 12 | 32 | 68.75 | B |
| 7705-144 | BWW15/100/1R | 1.5 | 100 | 150 | 154.4 | 45 | 10 | 12 | 12 | 32 | 87.5 | B |
| 7705-154 | BWW20/16/1R | 2 | 16 | 32 | 37.7 | 25 | 8 | 8 | 14 | 30 | 32 | B |
| 7705-155 | BWW20/18/1R | 2 | 18 | 36 | 41.7 | 25 | 8 | 10 | 14 | 30 | 34 | B |
| 7705-156 | BWW20/10/1R | 2 | 20 | 40 | 45.7 | 30 | 10 | 12 | 14 | 34 | 36 | B |
| 7705-157 | BWW20/25/1R | 2 | 25 | 50 | 55.7 | 35 | 10 | 12 | 14 | 34 | 41 | B |
| 7705-158 | BWW20/30/1R | 2 | 30 | 60 | 65.7 | 40 | 10 | 12 | 14 | 34 | 46 | B |
| 7705-159 | BWW20/40/1R | 2 | 40 | 80 | 85.7 | 40 | 10 | 12 | 14 | 34 | 56 | B |
| 7705-160 | BWW20/48/1R** | 2 | 48 | 96 | 102 | 35 | 12 | 20 | 16 | 28 | 64 | A |
| 7705-161 | BWW20/50/1R | 2 | 50 | 100 | 105.7 | 40 | 10 | 12 | 14 | 34 | 66 | B |
| 7705-162 | BWW20/60/1R | 2 | 60 | 120 | 125.7 | 50 | 10 | 12 | 14 | 34 | 76 | B |
Please note ** BWW20/48/1R Supplied in a black oxide finish